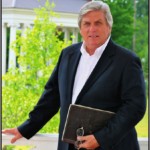 Scott Chamberlain is the founder of Caring Man In A Van. Scott and his son started the business back in 2007. Caring Man In A Van offers personal care transportation for you or your loved ones. Their services include ambulatory, wheelchair, or stretcher utilizing late model vehicles and trained staff. They offer you safe and clean air conditioned transportation for all local and long distance services at a reasonable rate.
Their company was founded based on the personal experiences they had with Scott's mother requiring transportation by wheelchair. He found the transportation business to really have two options for transportation: Ambulance which was very expensive and Non-Emergency Medicaid or County transportation which was very unreliable. He felt there was a better way to service the Senior and Disabled community, offering personal care and attention. Doing simple things like, being on time for appointments, providing a clean comfortable vehicle to ride in, having a driver that really cares about your well being, and with medical appointments staying with you and assisting in any way possible. This service has been well received as we have continued to develop other markets. With this positive reception and the growth of the Senior population we have decided to expand our services through a Franchise Network. 
Visit Caring Man In A Van's website for more information.