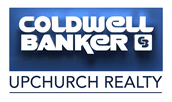 Charles Upchurch, III's father started the local Athens realty company back in 1974 out of the basement of his house. After much growth, he purchased the Coldwell Banker franchise in 1982. Charles III joined the family business in 1985 and now serves as the President and a Broker. With a new location on Broad and over 100 employees, Upchurch Realty is Athen's go-to realtor. 
The company's motto, "Expect the Best™," assures customers and clients that excellence and productivity are the Coldwell Banker Upchurch Realty way of life, and reiterates strong beliefs in client/customer commitment and a true dedication to the real estate profession.
For more information, visit Upchurch Realty's website.