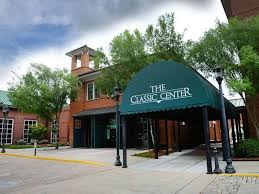 Paul Cramer arrived at The Classic Center in its infancy in 1995. In his 23 years, he's seen 4 expansions and thousands of events--The Classic Center hosts about 600 events a year! He focuses on making The Classic Center the leading convention center in order to benefit local Athenians and visitors from around the country.
The Classic Center is northeast Georgia's premier award winning convention center and performing arts theatre. Located in the heart of downtown Athens, Georgia, The Classic Center provides unique meeting space, outstanding special events services and a wide range of entertainment options, making this unconventional convention center the choice for conferences, meetings and special events!
The Classic Center Authority shall enhance the quality of life in Athens-Clarke County by serving as the cultural, civic and social center of the Southeast and by generating maximum economic impact.
Visit The Classic Center's website to learn more about the facility and its events.